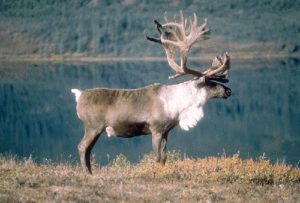 The current status of caribou
In North America, caribou have historically, and continue to be, a big part of northern Canadian culture.  The animals are an important traditional source of protein in the Arctic. Caribou are the only mammals that have adapted to eating lichen making them a very important part of the Arctic nutrient cycle.
Caribou have very distinct and organized migratory patterns and breeding habits and, as a result, they are extremely vulnerable to environmental disturbances.  There are many threats to the health of caribou populations and their habitat, partly due to climate change.  These include habitat destruction and fragmentation, increases in human interactions (particularly developmental disturbances and unregulated and easier access by hunters), more disease and disturbance by parasites and new imbalances in predator distribution (wolves for instance are also affected by climate change making them more of a threat at times).  They are having trouble with changes to snow depths, snow hardness on winter ranges and the availability of food sources on their spring ranges.
The continued conservation of caribou populations and their habitat involves ongoing research, monitoring and management.  This is especially true for those herds listed as at risk by the Committee on the Status of Endangered Wildlife in Canada.  Although many subdivide the caribou into four sub-groups (Grant's, Woodland, Barren-ground and Peary) COSEWIC, Committee on the Status of Endangered Wildlife in Canada, via their 2011 report Designatable Units for Caribou (Rangifer tarandus) in Canada, have outlined other population breakdowns that COSEWIC risk assessments have and will follow.  (See table below.)  Indigenous traditional knowledge is incorporated into COSEWIC status reports insofar as it concerns the status of wildlife species.
*SARA – Species at Risk Act
The boreal population in 2017
In July 2017, the federal government announced that it has come up with a proposed plan to protect Canada's threatened boreal caribou population.  This came three months after the Canadian Parks and Wilderness Society (CPAWS) filed an application for judicial review in Federal Court, accusing Environment Minister Catherine McKenna of not telling Canadians how the caribou are being protected.
The plan notes that the provincial and territorial governments have primary responsibility for the lands where the caribou are found but that federal officials will require reports on progress to ensure that protection and recovery efforts are effective.  Society lawyer Frederic Paquin said that the Species at Risk Act requires the Minister, "to form an opinion about whether or not the critical habitat of the woodland caribou is protected."
According to a federal government, the proposed plan "fulfills Canada's commitments under the federal Species at Risk Act."  The government plan presents measures including science to support recovery, including the establishment of a knowledge consortium and focus on critical habitat.  The plan also encourages provinces and territories to complete their range-planning work as soon as possible.
Provinces and territories are now working to develop range-specific plans or other similar documents for boreal caribou by October.  The federal plan requires, "unprecedented levels of innovation, co-operation, and collaboration amongst the federal government, provinces, territories, Indigenous peoples, industry, environmental organizations, and local communities."
The legal action by CPAWS contended there have been no reports on the issue since 2012.  Spokesman Eric Hebert-Daly has called the caribou an "umbrella species." Protecting their boreal forest habitat would also protect the habitat of many other species, as well as fresh water sources and carbon sinks which help combat climate change.
The woodland caribou habitat spans nine provinces and territories. Historically, their range covered more than half of present-day Canada, but they now occupy about 2.4 million square kilometres, about half their 19th-century territory.  The species was designated in 2002 as threatened by the Committee on the Status of Endangered Wildlife in Canada.  In 2011 Environment Canada estimated there were about 34,000 woodland caribou in 51 ranges in nine provinces and territories from Newfoundland to the Yukon.
Caribou populations by species and geography:
Please download our 2009 Carbou Vulnerability Study

Barren-ground Populations

In November 2016, the Committee on the Status of Wildlife in Canada designated the barren-ground caribou population as threatened.  The report notes that barren-ground caribou are a keystone species, playing a key ecological and cultural role in northern ecosystems.

The animals are wide ranging.  They give birth on the open arctic tundra and winter in vast subarctic forests.  They are known for their large aggregations and lengthy migrations.  Their fourteen to fifteen subpopulations range from northeastern Alaska to western Hudson Bay and Baffin Island.  

The herd is of significant cultural and social value to northern Indigenous peoples and other Canadians.  Much economic value is garnered from their harvest, primarily for their subsistence use.  Economic value has also been realized from the sport harvest when populations are sound.  In essence, for small communities, a modest sport hunt guiding business be an important source of both disposable income and meat (what the hunters don't take is donated) for the community.
The herd has experienced what the report describes as "worrisome declines" across most of their range.  They numbered more than two million individuals in the early 1990s but are currently estimated at about 800,000 individuals.  All but two of the sub-populations have declined dramatically.  Evidence from both local Aboriginal people and scientific studies suggests that most herds have undergone natural fluctuations in numbers in the past but that available demographic data indicate no sign of a rapid recovery and that cumulative threats are without historical precedent.

There has been increased levels of industrial exploration and development in barren-ground caribou ranges over the past several decades.  There are several new mines and hundreds of prospecting permits, mineral claims and mineral leases on several subpopulation ranges.  New roads to access these developments and to allow locals to travel more freely are also a concern.  The Beverly and Qamanirjuaq Caribou Management Board have listed development concerns for the subpopulation that they oversee to include mineral exploration, permanent all season roads and winter roads in calving, post-calving and key migration areas.  

There are also no set rules for harvest data collection for subsistence harvest. There are clear and strict rules for  sport harvest for resident and non-resident hunters. Hunting is still a very large part of life in the north. 

Finally, the report notes that changing conditions on the caribou ranges include the administrative and political complexity of a mix of settled and unsettled land claims, with changes in jurisdictional boundaries and mandates. The implementation of management actions is challenged by the inter-jurisdictional complexity between political, land management and wildlife management agencies, combined with the migratory nature of caribou and their use of extensive seasonal ranges.

Peary caribou populations

This sub-population of caribou lives in the Canadian Arctic Archipelago on the edge of plant growth in polar desert and arctic tundra environments.  The current population is estimated at 13,200 mature individuals from a high of 22,000 in 1987.  The species experienced a catastrophic die-off in the mid-1990s related to severe icing events in some parts of its range. In 1996, the population was estimated at 5,400 mature individuals, the lowest since surveys first commenced in 1961.  Of four subpopulations, two are now showing an increasing trend, one is stable, and the fourth had fewer than 10 individuals at the last count in 2005, with no evidence of any recovery.

The highest threats to the sub-population derive from changing climate, including the increased intensity and frequency of rain-on-snow events that negatively affect forage accessibility in winter.  The decreased extent and thickness of sea ice can also cause shifts in migration and movement patterns.  With regards the latter, the uncertainty associated with an increase in shipping throughout the Arctic could negatively affect the movement of the animals back and forth to offshore islands.
The sub-species was listed as threatened by COSEWIC in November 2015.  

Eastern Migratory and Torngat Mountain populations

The Eastern Migratory population exists as four subpopulations from coastal western Hudson Bay to Labrador. The present population estimate of 170,636 mature animals indicates there has been an 80% overall decline in number over three generations (18-21 years). The decline is predicted to continue because of overharvest and a decrease in habitat quality associated with climate change and development. Although migratory caribou populations fluctuate in abundance, there is concern that recent and predicted threats will limit population growth in a population that presently is at its lowest recorded level.  As such the Eastern Migratory caribou population was designated endangered in April 2017.

The Torngat Mountain population is restricted to the Ungava Peninsula of eastern Québec, northern Labrador, and Nunavut (Killiniq and adjacent islands). A quantitative trend is not available because survey data are limited, but the total population was estimated to be 5,000 individuals in 1980 and 930 individuals in 2014, suggesting a significant decline. Aboriginal Traditional Knowledge also indicates a decline. The population was designated endangered in November 2016 because the estimated 698 mature animals exist in a single population, a population decline is evident, and a decline is predicted to continue because of harvest and a decrease in habitat quality associated with climate change. The population may be facing imminent extinction because of the low numbers remaining.

Hydroelectric development and mining activities already occur within parts of the Eastern Migratory caribou range and these activities are increasing.  Affects include landscape-level changes in surface hydrology and an expanded network of roads and other infrastructures, which provide increased access to snowmobiles.  Hydroelectric dams in Québec and Newfoundland and Labrador have already flooded large areas of their former winter range.  Some of the proposed new mines are in sensitive caribou habitat areas.  If roads leading to the mines are built, even with appropriate mitigations, the implications could be serious for caribou.  Furthermore, the northern limit of industrial forestry is also increasing northward and is a future concern for the animals in Ontario. 

Climate change, through impacts on habitat quality and resource availability, also appears to be a threat for caribou populations as the abundance of shrubs increase on tundra landscapes. 

The human over harvest of both populations is also contributing to declines. Populations generally are limited by food availability, but subsistence and sport hunting can be limiting at low population size, or in a declining population.  There are moratoriums on the hunting of some of the population but and no quotas for hunting other parts of the herd.

All of the COSEWIC designated populations have been assessed by COSEWIC except the Dolphin and Union population, which are scheduled for assessment: November 26 through Friday December 1, 2017
http://www.cosewic.gc.ca
Caribou Management Boards
Both boards are collaborative efforts to keep science and data on herds up to date.
Porcupine Caribou Management Board
http://www.pcmb.ca/
Beverly Qamanirjuaq Caribou Management Board
http://arctic-caribou.com/
Wildlife Management Boards
Management boards were established under the land claims agreements in Canada. They provide recommendations on the sustainable use of wildlife resources. Current boards include and cover Nunavut, northern Northwest Territories, the Yukon, parts of Quebec and British Columbia. These management boards create information databases on the wildlife settlements in their region which is delivered to COSEWIC.
The Management Boards are:
Gwich'in Renewable Resources Board (GRRB)
Sahtu Renewable Resources Board
Wildlife Management Advisory Council – North Slope
Yukon Fish and Wildlife Management Board
www.yfwmb.yk.ca
Nunavut Wildlife Management Board
Wek'eezhii Renewable Resources Board
Wildlife Management Advisory Council – Northwest Territories
www.jointsecretariat.ca/wmacnwt.html
The Arctic Council and their working groups; Conservation of Arctic Flora & Fauna and the Arctic Monitoring and Assessment Program
Assembly of First Nations Environment Unit is working with officials from Environment and Climate Change Canada (ECCC) to support the direct inclusion of First Nations interests in species protection and conservation across Canada.