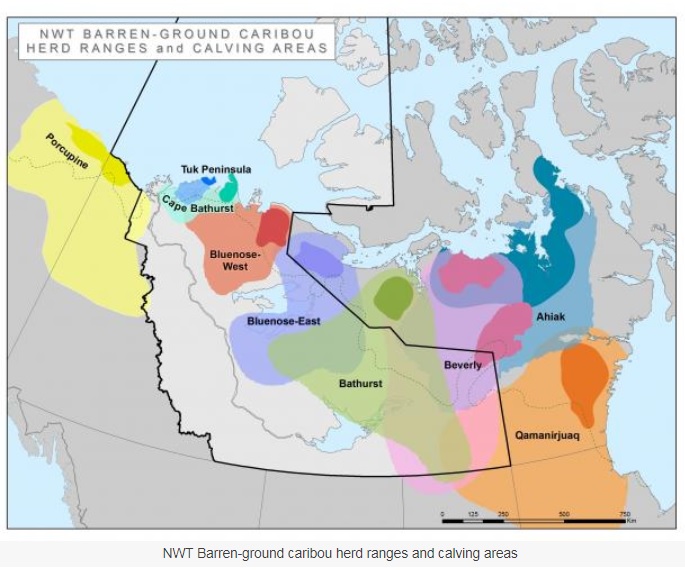 A response to the Government of Northwest Territories, Environment and Natural Resources
Draft Bathurst Caribou Range Plan
The Canadian Arctic Resources Committee is Canada's oldest citizen's organization dedicated to environmental sustainability in Canada's Arctic. We have a long history of commenting on environmental issues and we are a vocal supporter of caribou conservation for their own sake and for those who rely on them for food. Many of the points below have been raised in our recent submissions regarding new mining legislation in the Northwest Territories and the proposed Grays Bay Road and Port project now under review by the Nunavut Impact Review Board.
Having reviewed the draft Bathurst Caribou Range Plan, CARC was very pleased to read that conservation is being proposed for sensitive caribou habitats and to ensure range connectivity. Moreover, we agree that the calving and post-calving range of these animals is the most important and sensitive part of the Bathurst caribou range, as has been suggested by both traditional knowledge and a scientific perspective.
To that point, we are aware and agree that traditional knowledge has been undervalued in the past we hope that, while you continue to work on the Plan, you will continue to draw upon traditional knowledge as well as the considerable science associated with the studies of Bathurst caribou over the past century. We strongly believe that both sources of knowledge should be used to test the accuracy and consistency of information on which to base the Range Plan.
CARC has often suggested that the key to ensuring healthy populations of caribou is to keep development away from their critical habitat. Unfortunately, we are aware that many new resource developments can be found in caribou calving, post-calving and key migration areas. It is therefore encouraging that the draft Plan states that there should be restrictions to further development in these critical areas to ensure caribou are protected from sensory disturbance and to ensure that critical habitat is not altered or destroyed.
That being said, we do not agree with the draft Plan when it states that, "The construction and use of winter and/or all-season roads and trails on the Bathurst caribou range is … fundamentally important for the economic and social development of the region." In fact, we doubt that mining has been that helpful in creating a net economic gain for many local people, as is also suggested in the draft Plan. It may well be that mineral exploration and development has in fact been economically significant for only a handful of businesses and people living in the north.
It is not that we do not appreciate the socio-economic needs of the people of Nunavut and the Northwest Territories. We are concerned, however, that proposed new mining and road developments, like the proposed Grays Bay Road and Port project and the Slave Geological province all-season road, will continue to damage the health of Bathurst caribou by allowing roads to be built through their calving grounds. These projects are being touted as a promise for a better life for people living in the area while they could actually reduce the possibility of the future use of these animals for food and the possibility of better developing traditional economic ways of life.
The Plan mentions recent concerns expressed by the Committee on the Status of Wildlife in Canada. Their reports note that all barren-ground caribou are suffering from the cumulative effects of climate change, new road building, truck convoys during winter months, unsustainable harvest rates and new and existing resource development and exploration. Further mining and other resource development in the Bathurst caribou range is therefore likely to only hinder the herds recovery.
CARC also agrees with the considerable public concern being expressed that future proposed developments, such as Grays Bay, will lead to additional pressure for construction of all-weather roads through the Bathurst caribou range. This would provide increased geographical and year-round road access for hunters, mineral exploration companies and others via Yellowknife and put further pressure on already decimated caribou numbers.
To that point, we are also concerned that there has been little management of the harvest of the Bathurst caribou herd. Considering the severe decline in the numbers of these animals, which in part is likely due to new road development into their habitat, there has been no transparency or clarity on how the harvest should be managed, on how harvest management will or should continue to be managed if the herd begins to recover and no clear accountability for over or inappropriate harvest. We are extremely concerned, in this time of increased food security, that the decline in caribou populations and the subsequent reduced levels of harvesting will have a sad and grave impact on the continued culturally important use of these animals for food. We believe however that an effort to establish quotas, to collect information on the number of animals being removed from the population and on the age, sex, and breeding status of the animals killed or lost to wounding by hunters, will help establish a better management regime for these animals and in fact insure the continued traditional use of these animals for food and potentially for the growth of more traditionally based economies.
Finally, we have serious concerns about the realistic ability of responsible authorities to meet the many and substantial commitments made in the Plan. Measuring the population size every three years or less has already been difficult to impossible to manage financially. Those responsible for doing so are seriously under-resourced. It is difficult to believe that the commitments outlined in the draft Plan can and will be met without an increase in funding. We are concerned therefore about the capacity to do this work, a commitment to the resources required and the consequences of failing to meet these commitments.
In conclusion, we strongly believe that it is unacceptable that these animals be sacrificed for short term economic gain through resource development. With the development of the Bathurst Caribou Range Plan, as one of the components required to manage the herd, we believe that Territorial and Indigenous governments, in possible cooperation with the federal government, are starting to ensure the continued existence of one of the last free, wide roaming ungulate herds of North America. Surely, we have learned that effective management must be in place before development occurs and that development can only be permitted under conditions that assure the Bathurst herd is able to recover and persist at healthy population levels. Rather than just relying on resource development as a means of growing the economy, we believe that traditional economies that are consistent with sustained, healthy caribou populations and habitat should therefore be better recognized and supported.
We recognize there has been a tremendous effort put into the development of the Bathurst Caribou Range Plan and thank you again for the opportunity to comment on it.
*image fm GNWT Environment and Natural Resources website